It's the Astronomy Online non-Blog, or un-Blog.
Everyone has a blog now and since I am no follower of trends, I decided to merge the blog with the website. And I don't want to neglect the website in favor of posting on the blog.
These are the pages that were on the blog of old:
- Home
- Me
- Links
Links:
Google Maps - Mars
Google Maps - Moon
HiRISE
HiRISE - MRO Imaging
Mac Singularity
Meade4M
Slackerpedia Galactica
Software for the Mac
Starry Night Online
Venus Maps

More Favorites:
Thank you for visiting!

Extended Groth Strip - 50,000 Galaxies:
Several hundred images taken with NASA's Hubble Space Telescope have been woven together into a rich tapestry of at least 50,000 galaxies. The Hubble view is yielding new clues about the universe's youth, from its "pre-teen" years to young adulthood.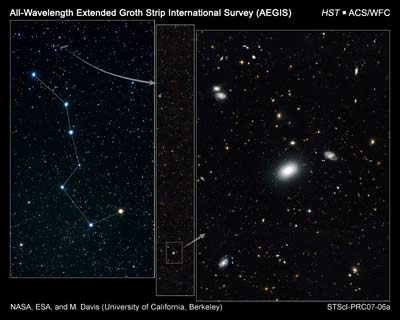 Among the discoveries so far in this galactic tapestry are a giant red galaxy with two black holes at its core; several new gravitational lenses — galaxies whose gravity bends the light from background galaxies into multiple images; and a rogues' gallery of weird galaxies that should keep astronomers busy for a long time trying to explain them.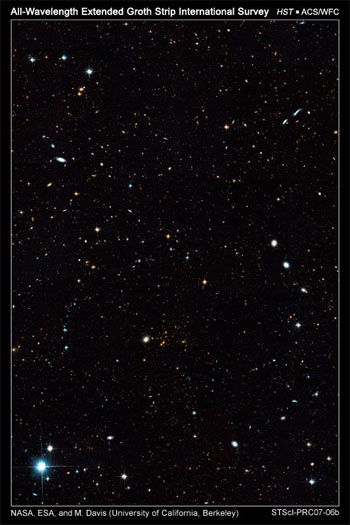 To cover even this much of the sky, Hubble's Advanced Camera for Surveys snapped more than 500 separate exposures, at 63 different pointings, spread out over the course of one year. The final mosaic is 21 images long by 3 images tall. (The dimensions in degrees are about 1.1 by 0.15 degrees. For comparison, the Moon is about 0.5 degrees in angular size).
The Extended Groth Strip is named for Princeton University physicist Edward Groth.
Source: Hubble News Center