Welcome to Astronomy Online
A legally blind photographer/astronomer on disability so I use this site to contribute to society.

Last Updated: added graphics for the 88 constellations under Observation/The Night Sky.

This site is a testament that even though I have a physical disability - legally blind - I can still do things that helps other people.
---
Award-winning middle school online courses at Excel High School
Northgate Academy offers online homeschooling with a Christian worldview
Get Your Pharmacy technician certification online at Washington Online Learning Institute
---
I also have a new image gallery. I call it Second Site Image Gallery.
---
Check Grab My Essay which is one of the best essay writing services
Find on Top Writers Review your essay writing company
PickWriters provides the best translation services reviews
---
This is an educational website. It's never too late to learn astronomy, even for those who have not completed their primary (High School) education. A GED can get you in the door to college level courses.
---
Visit this page: https://www.advancedwriters.com/custom-research-paper.html and get Astronomy research project writing assistance for University classes.
Affordable academic writing company CheapWritingHelp.com provides students with unique astronomy research papers and science essays.
A-Writer essay writing service with the best PhD writers on Astronomy.
---
APOD: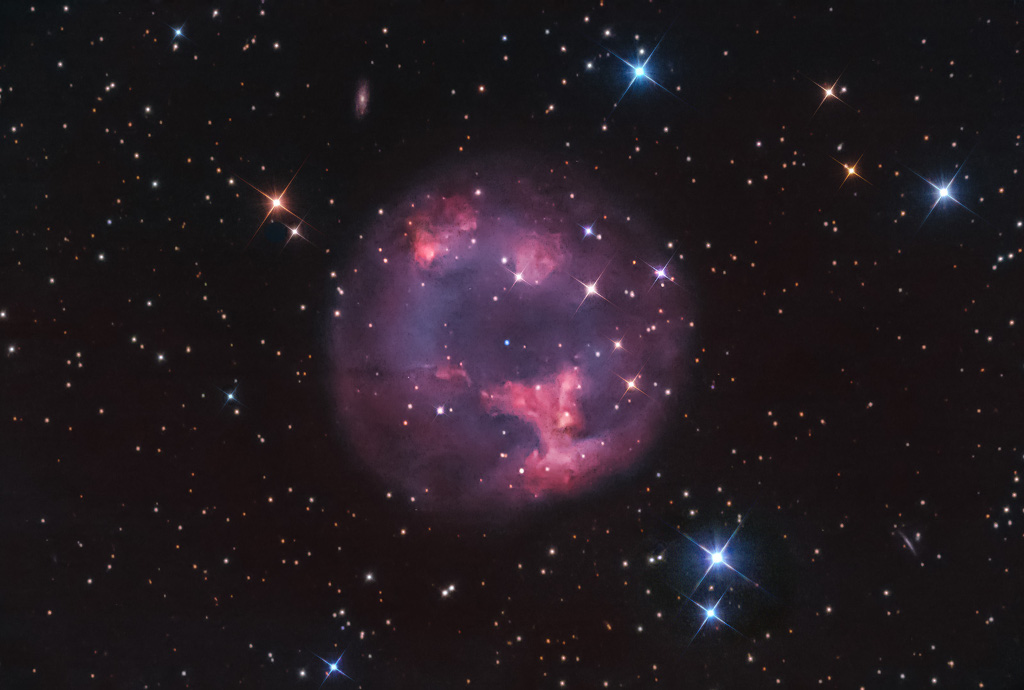 Planetary Nebula Abell 7 Image Credit & Copyright: Donald Waid, Ron Dilulio
Explanation: Very faint planetary nebula Abell 7 is some 1,800 light-years distant, just south of Orion in planet Earth's skies in the constellation Lepus, The Hare. Surrounded by Milky Way stars and near the line-of-sight to distant background galaxies, its generally simple spherical shape, about 8 light-years in diameter, is outlined in this deep telescopic image. Within its confines are beautiful, more complex details enhanced by the use of narrowband filters. Emission from hydrogen is shown in reddish hues with oxygen emission mapped to green and blue colors, giving Abell 7 a natural appearance that would otherwise be much too faint to be appreciated by eye. A planetary nebula represents a very brief final phase in stellar evolution that our own Sun will experience 5 billion years hence, as the nebula's central, once sun-like star shrugs off its outer layers. Abell 7 itself is estimated to be 20,000 years old. Its central star is seen here as a fading white dwarf some 10 billion years old.
---
5 Reasons to Get a Degree in Astronomy
5 Best Online Courses in Astronomy
---

APOD:
Colors of the Moon Image Credit & Copyright: Marcella Giulia Pace
Explanation: What color is the Moon? It depends on the night. Outside of the Earth's atmosphere, the dark Moon, which shines by reflected sunlight, appears a magnificently brown-tinged gray. Viewed from inside the Earth's atmosphere, though, the moon can appear quite different. The featured image highlights a collection of apparent colors of the full moon documented by one astrophotographer over 10 years from different locations across Italy. A red or yellow colored moon usually indicates a moon seen near the horizon. There, some of the blue light has been scattered away by a long path through the Earth's atmosphere, sometimes laden with fine dust. A blue-colored moon is more rare and can indicate a moon seen through an atmosphere carrying larger dust particles. What created the purple moon is unclear -- it may be a combination of several effects. The last image captures the total lunar eclipse of 2018 July -- where the moon, in Earth's shadow, appeared a faint red -- due to light refracted through air around the Earth. Today there is not only another full moon but a total lunar eclipse visible to observers in North and South America -- an occurrence that may lead to some unexpected lunar colorings.
---
7 Tips to Create a High-Quality Essay for College
---
Get help with your dissertation at Dissertation Expert - PhD thesis writing service.
Expert Admission essay writers - admissionland.com - essay writing service.
Assignmentgeek.com – get professional assistance with astronomy assignments.
---

APOD:
NGC 1316: After Galaxies Collide Image Credit & Copyright: Capture: Greg Turgeon; Processing: Kiko Fairbairn
Explanation: Astronomers turn detectives when trying to figure out the cause of startling sights like NGC 1316. Investigations indicate that NGC 1316 is an enormous elliptical galaxy that started, about 100 million years ago, to devour a smaller spiral galaxy neighbor, NGC 1317, just on the upper right. Supporting evidence includes the dark dust lanes characteristic of a spiral galaxy, and faint swirls and shells of stars and gas visible in this wide and deep image. One thing that >remains unexplained is the unusually small globular star clusters, seen as faint dots on the image. Most elliptical galaxies have more and brighter globular clusters than NGC 1316. Yet the observed globulars are too old to have been created by the recent spiral collision. One hypothesis is that these globulars survive from an even earlier galaxy that was subsumed into NGC 1316. Another surprising attribute of NGC 1316, also known as Fornax A, is its giant lobes of gas that glow brightly in radio waves.
---
---
Astronomy Online is a personal resource of mine that is made public. Please enjoy the site.

---

ARCHIVED BLOG ENTRIES

---
---
Advertising within text will be in italics with a link to the ad source.
Observation - This section includes information on coordinate systems, constellations, objects visible in the night sky, and some images of the night sky of the northern and southern hemispheres.
Science - This section includes information on some of the basic science used in astronomy. There is information on the variety of tools used (like telescopes) as well as methods of using them. There is a mathematics primer, introduction to some physical processes, formulas used in astronomy, and information on computer use in Astronomy.

Solar System - As indicated, this section covers our Solar System (See Solar System App, Solar System Scope App) and everything in it. It covers the Sun, planets, their moons, asteroids, comets and exotic objects like TNO's and Kuiper Belt Objects.
Stars - This section covers stars in our own galaxy. It covers the variety of stellar evolution paths. It also covers supernova, black holes, and some of the radiative processes in the interstellar medium.

Our Galaxy - This section covers our galaxy as well as some of the nearby galaxies in our own Local Group. It also covers galaxy evolution.
Cosmology - This section covers other galaxies and galaxies clusters. It also covers the big bang, relativity and dark matter.
Astrobiology - This section covers the relatively new field in astronomy - the possibility of life in our Solar System and the Universe. There is also information on some of the projects dealing with this - like SETI.

Exoplanets - This section covers the study of planets known to exist around other stars. It covers both amateur and professional involvement and shows you how you can get involved with the search as well.

Astrophotography - This section covers the fastest growing hobby of astrophotography. This section offers information and tips on photography and also features and Image Gallery.
Advertisement
American Cancer Society | Mesothelioma Veterans Center | Cerebralpalsy Guidance | Recall Report | ConsumerSafetyGuide | Trident University | 5 STEM Space | KnowYourDNA