Welcome to Astronomy Online
A legally blind photographer/astronomer on disability so I use this site to contribute to society.

Last Updated: added graphics for the 88 constellations under Observation/The Night Sky.

This site is a testament that even though I have a physical disability - legally blind - I can still do things that helps other people. I even have a new project: Astro-Drummer, a site dedicated to my other hobby.
I also have a new image gallery. I call it Second Site Image Gallery.
This is an educational website. It's never too late to learn astronomy, even for those who have not completed their primary (High School) education. A GED can get you in the door to college level courses.
Check out this list of lego star wars sets for a great selection of astronomy lego toys for boys and girls.
Visit this page: https://www.advancedwriters.com/custom-research-paper/ and get Astronomy research project writing assistance for University classes.
A guide to teach kids to draw at imagiplay.com.
Load your astronomy software on a Cloud Desktop. Risk-free trial at Clouddesktoponline.com

APOD: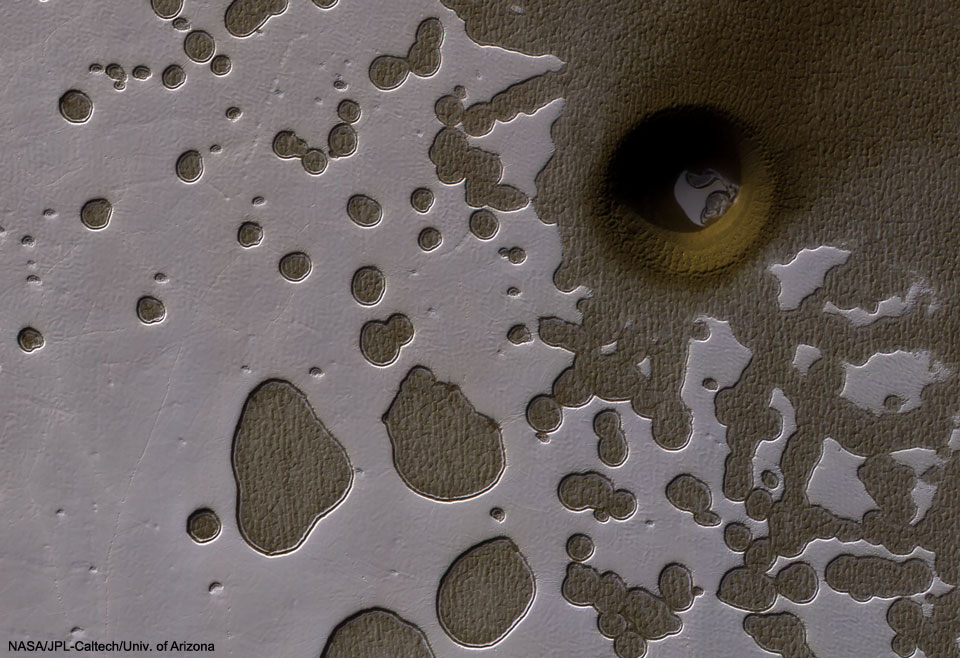 An Unusual Hole in Mars Image Credit: NASA, MRO, HiRISE, JPL, U. Arizona
Explanation: What created this unusual hole in Mars? Actually, there are numerous holes pictured in this Swiss cheese-like landscape, with all-but-one of them showing a dusty, dark, Martian terrain beneath evaporating, light, carbon-dioxide ice. The most unusual hole is on the upper right, spans about 100-meters, and seems to punch through to a lower level. Why this hole exists and why it is surrounded by a circular crater remains a topic of speculation, although a leading hypothesis is that it was created by a meteor impact. Holes such as this are of particular interest because they might be portals to lower levels that extend into expansive underground caves. If so, these naturally-occurring tunnels are relatively protected from the harsh surface of Mars, making them relatively good candidates to contain Martian life. These pits are therefore prime targets for possible future spacecraft, robots, and even human interplanetary explorers.

APOD:
The Great Nebula in Carina Image Credit & Copyright: Amit Ashok Kamble
Explanation: In one of the brightest parts of Milky Way lies a nebula where some of the oddest things occur. NGC 3372, known as the Great Nebula in Carina, is home to massive stars and changing nebulas. The Keyhole Nebula (NGC 3324), the bright structure just to the right of the image center, houses several of these massive stars and has itself changed its appearance. The entire Carina Nebula, captured here, spans over 300 light years and lies about 7,500 light-years away in the constellation of Carina. Eta Carinae, the most energetic star in the nebula, was one of the brightest stars in the sky in the 1830s, but then faded dramatically. While Eta Carinae itself maybe on the verge of a supernova explosion, X-ray images indicate that much of the Great Nebula in Carina has been a veritable supernova factory.
---
---
Astronomy Online is a personal resource of mine that is made public. Please enjoy the site.

---

ARCHIVED BLOG ENTRIES

---
Advertising within text will be in italics with a link to the ad source.
Observation - This section includes information on coordinate systems, constellations, objects visible in the night sky, and some images of the night sky of the northern and southern hemispheres.
Science - This section includes information on some of the basic science used in astronomy. There is information on the variety of tools used (like telescopes) as well as methods of using them. There is a mathematics primer, introduction to some physical processes, formulas used in astronomy, and information on computer use in Astronomy.

Solar System - As indicated, this section covers our Solar System (See Solar System App) and everything in it. It covers the Sun, planets, their moons, asteroids, comets and exotic objects like TNO's and Kuiper Belt Objects.
Stars - This section covers stars in our own galaxy. It covers the variety of stellar evolution paths. It also covers supernova, black holes, and some of the radiative processes in the interstellar medium.

Our Galaxy - This section covers our galaxy as well as some of the nearby galaxies in our own Local Group. It also covers galaxy evolution.
Cosmology - This section covers other galaxies and galaxies clusters. It also covers the big bang, relativity and dark matter.
Astrobiology - This section covers the relatively new field in astronomy - the possibility of life in our Solar System and the Universe. There is also information on some of the projects dealing with this - like SETI.

Exoplanets - This section covers the study of planets known to exist around other stars. It covers both amateur and professional involvement and shows you how you can get involved with the search as well.

Astrophotography - This section covers the fastest growing hobby of astrophotography. This section offers information and tips on photography and also features and Image Gallery.
Advertisement
Braindumps Testking 000-105 640-816 SY0-201 70-662 650-987 70-642 1Y0-A18 E22-275
QuitSmokingCommunity.org
American Cancer Society