Welcome to Astronomy Online
A legally blind photographer/astronomer on disability so I use this site to contribute to society.

Last Updated: October 24, 2012 added graphics for the 88 constellations under Observation/The Night Sky.

This site is a testament that even though I have a physical disability - legally blind - I can still do things that helps other people. I even have a new project: Astro-Drummer, a site dedicated to my other hobby.
I also have a new image gallery. I call it Second Site Image Gallery.
This is an educational website. It's never too late to learn astronomy, even for those who have not completed their primary (High School) education. A GED can get you in the door to college level courses.

InboxAstronomy:
NASA's Hubble Telescope Finds Potential Kuiper Belt Targets for New Horizons Pluto Mission The Kuiper Belt is a vast disk of icy debris left over from our Sun's formation 4.6 billion years ago. Kuiper Belt objects (KBOs) are a unique class of solar-system body that has never been visited by interplanetary spacecraft. They contain well-preserved clues to the origin of our solar system. NASA's New Horizons probe will fly by Pluto in mid-2015 and then continue across the Kuiper Belt on its way toward interstellar space. The Hubble Space Telescope was used to do a deep sky survey to identify KBOs that the New Horizons spacecraft could potentially visit on its outbound trajectory. The deep sky survey was successful, and Hubble found targetable KBOs for New Horizons.

APOD:
Sunspots and Solar Eclipse Image Credit & Copyright: Michael Bolte (UCSC)
Explanation: A New Moon joined giant sunspot group AR 2192 to dim the bright solar disk during Thursday's much anticipated partial solar eclipse. Visible from much of North America, the Moon's broad silhouette is captured in this extreme telephoto snapshot near eclipse maximum from Santa Cruz, California. About the size of Jupiter, the remarkable AR 2192 itself darkens a noticeable fraction of the Sun, near center and below the curved lunar limb. As the sunspot group slowly rotates across the Sun and out of view in the coming days its activity is difficult to forecast. But the timing of solar eclipses is easier to predict. The next will be a total solar eclipse on March 20, 2015.

APOD: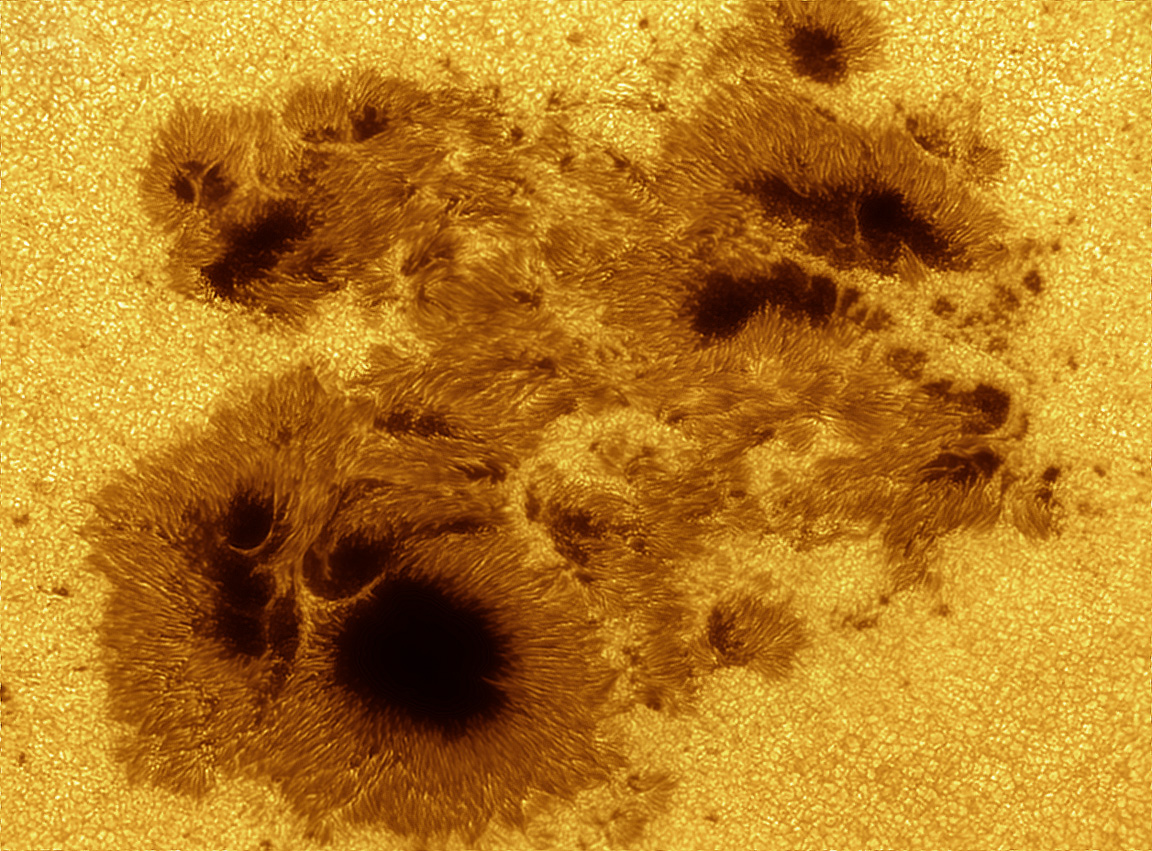 AR 2192: Giant on the Sun Image Credit & Copyright: Randall Shivak and Alan Friedman (Averted Imagination)
Explanation: As you (safely!) watched the progress of yesterday's partial solar eclipse, you probably also spotted a giant sunspot group. Captured in this sharp telescopic image from October 22nd the complex AR 2192 is beautiful to see, a sprawling solar active region comparable in size to the diameter of Jupiter. Like other smaller sunspot groups, AR 2192 is now crossing the Earth-facing side of the Sun and appears dark in visible light because it is cooler than the surrounding surface. Still, the energy stored in the region's twisted magnetic fields is enormous and has already generated powerful explosions, including two X-class solar flares this week. Coronal mass ejections (CMEs) associated with the flares have not affected planet Earth, so far. The forecast for further activity from AR 2192 is still significant though, as it swings across the center of the solar disk and Earth-directed CMEs become possible.
---
Astronomy Online is a personal resource of mine that is made public. Please enjoy the site.

---

ARCHIVED BLOG ENTRIES

---
Advertising within text will be in italics with a link to the ad source.
Observation - This section includes information on coordinate systems, constellations, objects visible in the night sky, and some images of the night sky of the northern and southern hemispheres.
Science - This section includes information on some of the basic science used in astronomy. There is information on the variety of tools used (like telescopes) as well as methods of using them. There is a mathematics primer, introduction to some physical processes, formulas used in astronomy, and information on computer use in Astronomy.

Solar System - As indicated, this section covers our Solar System and everything in it. It covers the Sun, planets, their moons, asteroids, comets and exotic objects like TNO's and Kuiper Belt Objects.
Stars - This section covers stars in our own galaxy. It covers the variety of stellar evolution paths. It also covers supernova, black holes, and some of the radiative processes in the interstellar medium.

Our Galaxy - This section covers our galaxy as well as some of the nearby galaxies in our own Local Group. It also covers galaxy evolution.
Cosmology - This section covers other galaxies and galaxies clusters. It also covers the big bang, relativity and dark matter.
Astrobiology - This section covers the relatively new field in astronomy - the possibility of life in our Solar System and the Universe. There is also information on some of the projects dealing with this - like SETI.

Exoplanets - This section covers the study of planets known to exist around other stars. It covers both amateur and professional involvement and shows you how you can get involved with the search as well.

Astrophotography - This section covers the fastest growing hobby of astrophotography. This section offers information and tips on photography and also features and Image Gallery.
Advertisement
Braindumps Testking 000-105 640-816 SY0-201 70-662 650-987 70-642 1Y0-A18 E22-275