Welcome to Astronomy Online
A legally blind photographer/astronomer on disability so I use this site to contribute to society.

Last Updated: added graphics for the 88 constellations under Observation/The Night Sky.

This site is a testament that even though I have a physical disability - legally blind - I can still do things that helps other people.
I also have a new image gallery. I call it Second Site Image Gallery.
This is an educational website. It's never too late to learn astronomy, even for those who have not completed their primary (High School) education. A GED can get you in the door to college level courses.
---
!-->

Visit this page: https://www.advancedwriters.com/custom-research-paper and get Astronomy research project writing assistance for University classes.

A guide to teach kids to draw at imagiplay.com.

3dinsider.com - 3D printers are changing science fast.

Affordable academic writing company CheapWritingHelp.com provides students with unique astronomy research papers and science essays.

A-Writer essay writing service with the best PhD writers on Astronomy.
---
APOD:
Mars 2020 from 5,000 Feet Image Credit & Copyright: John Kraus
Explanation: On Thursday this snapshot from a small plane 5,000 feet above Florida's Space Coast caught a rocket's trail rising into the blue morning sky. It was July's third launch of a mission from planet Earth bound for Mars. The Atlas V rocket left Cape Canaveral Air Force Station from Space Launch Complex 41 at 7:50am EDT carrying NASA's Mars 2020 Perseverance Rover. The car-sized Perseverance is headed for a landing at Jezero Crater on the Red Planet in February 2021. On board the sophisticated rover is the Ingenuity Mars Helicopter.

APOD: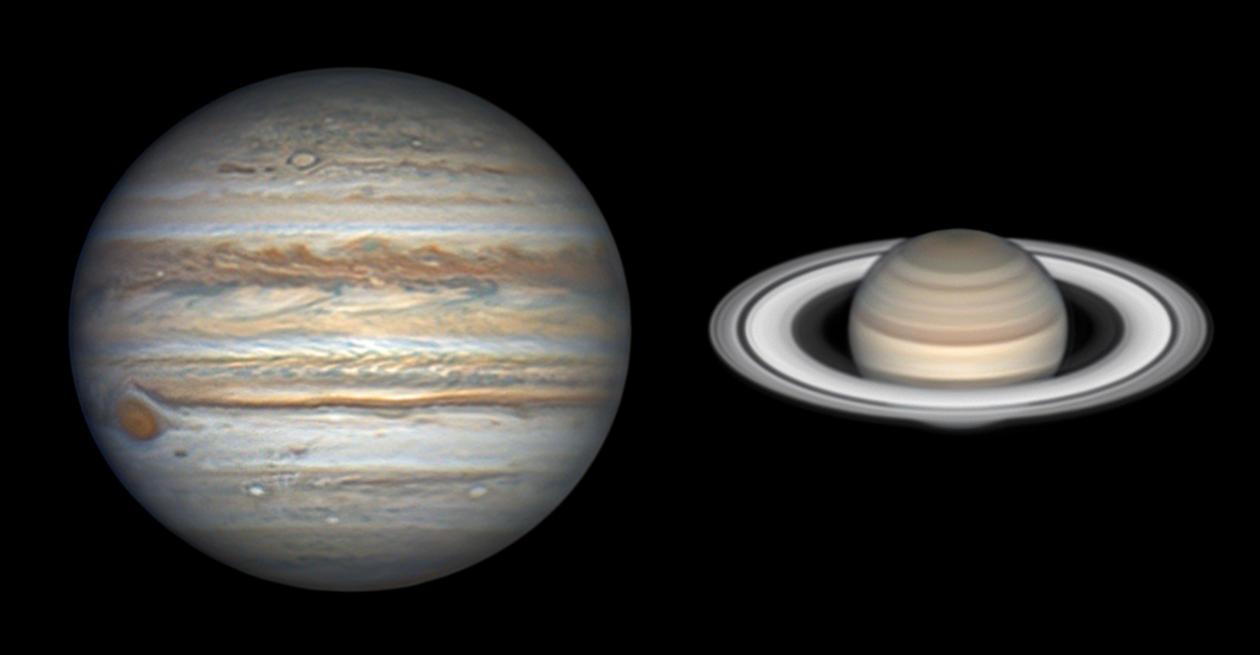 The Giants of Summer Image Credit & Copyright: Jean-Luc Dauvergne
Explanation: As Comet NEOWISE sweeps through northern summer skies, Jupiter and Saturn are shining brightly, near opposition. With Jupiter opposite the Sun on July 14 and Saturn on July 21, the giant planets are still near their closest to planet Earth in 2020. Sharing the constellation Sagittarius they are up all night, and offer their best and brightest views at the telescope. Both captured on July 22 from a balcony in Paris these two sharp telescopic images don't disappoint, showing off what the giant planets are famous for, Saturn's bright rings and Jupiter's Great Red Spot. These giants of the Solar System are worth following during 2020. On December 21, skygazers can watch the once-in-20-year great conjunction of Jupiter and Saturn.
---
AstronomyOnline.org is supported by individuals and businesses around the world. We are thankful for our benefactors who help keep the server costs covered, so we can continue to provide our valuable content to readers. Meier Orthopedic Surgeon in Los Angeles treats sports related injuries with cutting edge technology. Daily Fantasy Cafe provides new user bonus codes for daily fantasy sports. Michigan Lottery promo code provides bonus codes for folks playing the online MI lottery. Depth Charts offers the latest NFL, NBA and MLB depth chart information for teams.
---
Sponsored Post: https://papersowl.com Tips to Write Effective Astronomy Research Papers.
---
---
Astronomy Online is a personal resource of mine that is made public. Please enjoy the site.

---

ARCHIVED BLOG ENTRIES

---
---
Advertising within text will be in italics with a link to the ad source.
Observation - This section includes information on coordinate systems, constellations, objects visible in the night sky, and some images of the night sky of the northern and southern hemispheres.
Science - This section includes information on some of the basic science used in astronomy. There is information on the variety of tools used (like telescopes) as well as methods of using them. There is a mathematics primer, introduction to some physical processes, formulas used in astronomy, and information on computer use in Astronomy.

Solar System - As indicated, this section covers our Solar System (See Solar System App) and everything in it. It covers the Sun, planets, their moons, asteroids, comets and exotic objects like TNO's and Kuiper Belt Objects.
Stars - This section covers stars in our own galaxy. It covers the variety of stellar evolution paths. It also covers supernova, black holes, and some of the radiative processes in the interstellar medium.

Our Galaxy - This section covers our galaxy as well as some of the nearby galaxies in our own Local Group. It also covers galaxy evolution.
Cosmology - This section covers other galaxies and galaxies clusters. It also covers the big bang, relativity and dark matter.
Astrobiology - This section covers the relatively new field in astronomy - the possibility of life in our Solar System and the Universe. There is also information on some of the projects dealing with this - like SETI.

Exoplanets - This section covers the study of planets known to exist around other stars. It covers both amateur and professional involvement and shows you how you can get involved with the search as well.

Astrophotography - This section covers the fastest growing hobby of astrophotography. This section offers information and tips on photography and also features and Image Gallery.
Advertisement
Best Long Boards Longboardbrand.com | American Cancer Society | Mesothelioma Cancer Resources | Mesothelioma Veterans Center | MesotheliomaHelpNow | Cerebralpalsy Guidance | Recall Report | ConsumerSafetyGuide | CouponChief-Ultimate Guide to Financial Resources for Cancer Patients | Birth Injury Justice Center | Trident University | 5 STEM Space | KnowYourDNA