---
Astronomy Online Store
.
Reload the page (F5 key) to see a random selection of items below.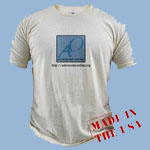 ---
---
Stumble It!

Welcome to Astronomy Online
A legally blind photographer/astronomer on disability so I use this site to contribute to society.

Last Updated: October 24, 2012 added graphics for the 88 constellations under Observation/The Night Sky.

This site is a testament that even though I have a physical disability - legally blind - I can still do things that helps other people. I even have a new project: Astro-Drummer, a site dedicated to my other hobby.
I also have a new image gallery. I call it Second Site Image Gallery.
This is an educational website. It's never too late to learn astronomy, even for those who have not completed their primary (High School) education. A GED can get you in the door to college level courses.

InboxAstronomy:
The Party's Over for These Youthful Compact Galaxies Hubble has uncovered young, massive, compact galaxies whose raucous star-making parties are ending early. The firestorm of star birth has blasted out most of the remaining gaseous fuel needed to make future generations of stars. Now the party's over for these gas-starved galaxies, and they are on track to possibly becoming so-called "red and dead galaxies," composed only of aging stars. An analysis of 12 merging galaxies is suggesting that energy from the star-birthing frenzy created powerful winds that are blowing out the gas, squelching future generations of stars. This activity occurred when the universe was half its current age of 13.7 billion years.

APOD: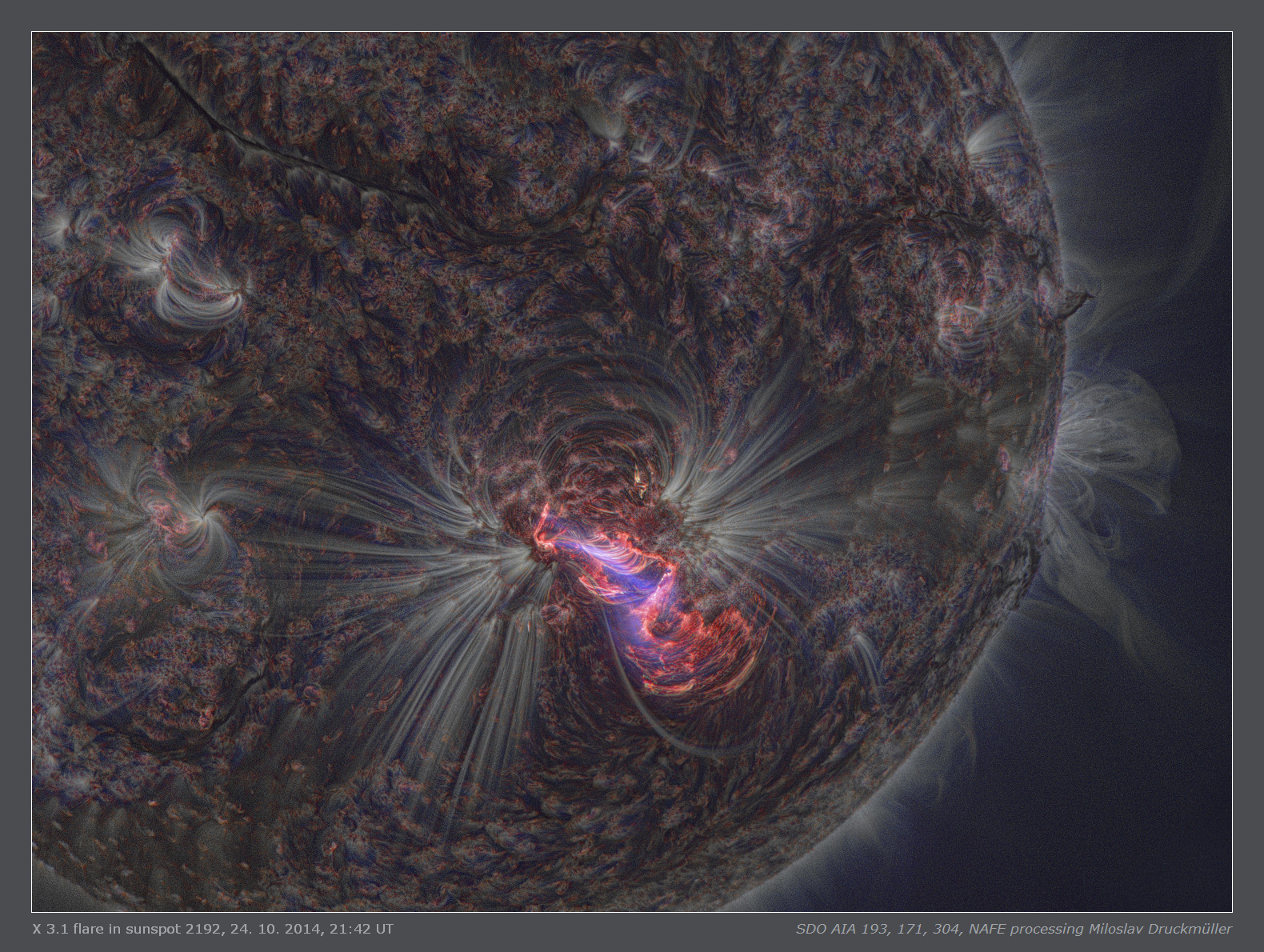 Solar Flare from a Sharper Sun Image Credit: Solar Dynamics Observatory/AIA, NASA Processing: NAFE by Miloslav Druckmuller (Brno University of Technology)
Explanation: Solar active region AR2192 was the largest recorded sunspot group of the last 24 years. Before rotating off the Earth-facing side of the Sun at the end of October, it produced a whopping six energetic X-class flares. Its most intense flare was captured on October 24 in this stunning view from the orbiting Solar Dynamics Observatory. The scene is a color combination of images made at three different wavelengths of extreme ultraviolet light; 193 angstroms shown in blue, 171 angstroms in white, and 304 angstroms in red. The emission, from highly ionized Iron and Helium atoms, traces magnetic field lines looping through the hot plasma of the Sun's outer chromosphere and corona. Beneath, the cooler solar photosphere appears dark at extreme ultraviolet wavelengths. The exceptionally sharp composite image has been processed with a new mathematical algorithm (NAFE) that adapts to noise and brightness in extreme ultraviolet image data to reliably enhance small details.

APOD: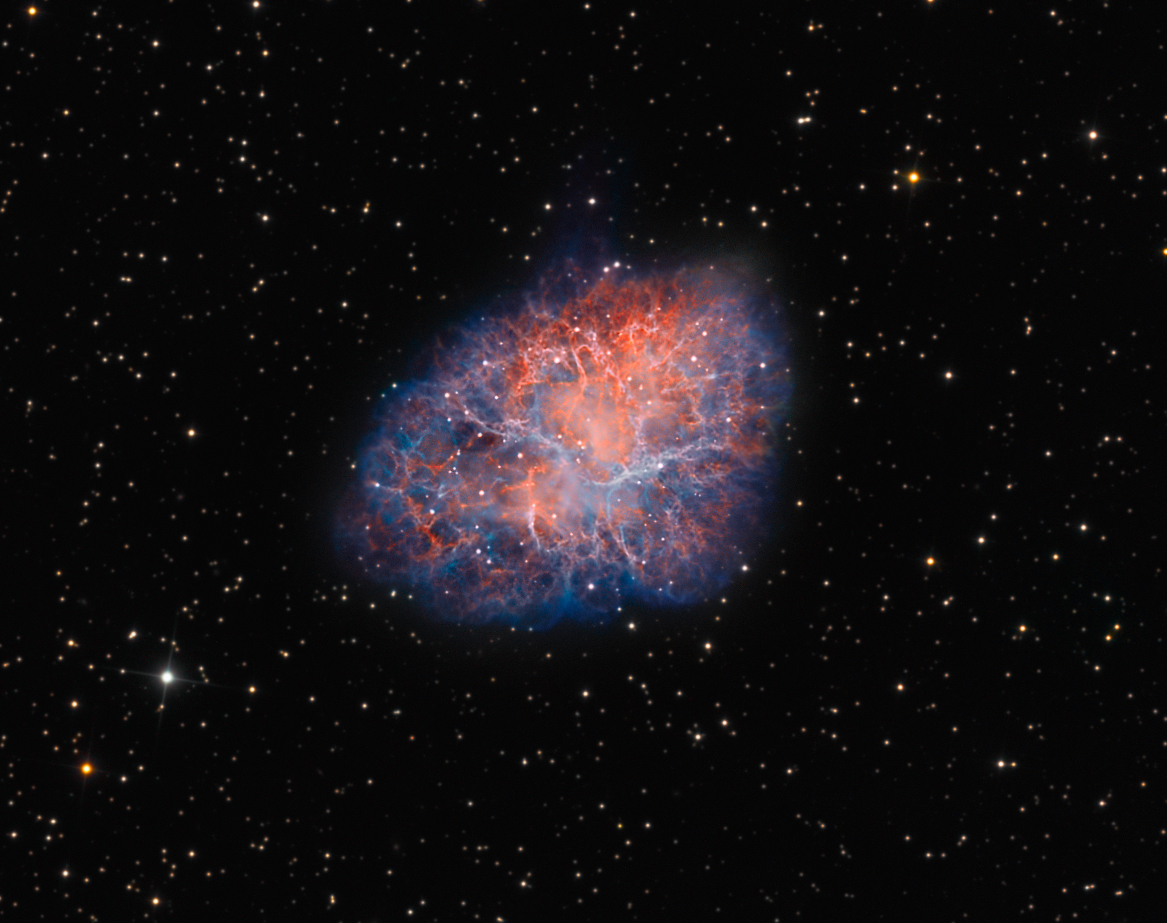 M1: The Crab Nebula Image Credit & Copyright: Martin Pugh
Explanation: The Crab Nebula is cataloged as M1, the first object on Charles Messier's famous 18th century list of things which are not comets. In fact, the Crab is now known to be a supernova remnant, debris from the death explosion of a massive star, witnessed by astronomers in the year 1054. This sharp, ground-based telescopic view uses narrowband data to track emission from ionized oxygen and hydrogen atoms (in blue and red) and explore the tangled filaments within the still expanding cloud. One of the most exotic objects known to modern astronomers, the Crab Pulsar, a neutron star spinning 30 times a second, is visible as a bright spot near the nebula's center. Like a cosmic dynamo, this collapsed remnant of the stellar core powers the Crab's emission across the electromagnetic spectrum. Spanning about 12 light-years, the Crab Nebula is a mere 6,500 light-years away in the constellation Taurus.
---
Astronomy Online is a personal resource of mine that is made public. Please enjoy the site.

---

ARCHIVED BLOG ENTRIES

---
Advertising within text will be in italics with a link to the ad source.
Observation - This section includes information on coordinate systems, constellations, objects visible in the night sky, and some images of the night sky of the northern and southern hemispheres.
Science - This section includes information on some of the basic science used in astronomy. There is information on the variety of tools used (like telescopes) as well as methods of using them. There is a mathematics primer, introduction to some physical processes, formulas used in astronomy, and information on computer use in Astronomy.

Solar System - As indicated, this section covers our Solar System and everything in it. It covers the Sun, planets, their moons, asteroids, comets and exotic objects like TNO's and Kuiper Belt Objects.
Stars - This section covers stars in our own galaxy. It covers the variety of stellar evolution paths. It also covers supernova, black holes, and some of the radiative processes in the interstellar medium.

Our Galaxy - This section covers our galaxy as well as some of the nearby galaxies in our own Local Group. It also covers galaxy evolution.
Cosmology - This section covers other galaxies and galaxies clusters. It also covers the big bang, relativity and dark matter.
Astrobiology - This section covers the relatively new field in astronomy - the possibility of life in our Solar System and the Universe. There is also information on some of the projects dealing with this - like SETI.

Exoplanets - This section covers the study of planets known to exist around other stars. It covers both amateur and professional involvement and shows you how you can get involved with the search as well.

Astrophotography - This section covers the fastest growing hobby of astrophotography. This section offers information and tips on photography and also features and Image Gallery.
Advertisement
Braindumps Testking 000-105 640-816 SY0-201 70-662 650-987 70-642 1Y0-A18 E22-275