---
Astronomy Online Store
.
Reload the page (F5 key) to see a random selection of items below.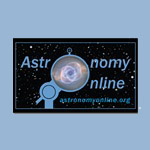 ---
---
Stumble It!

Welcome to Astronomy Online
A legally blind photographer/astronomer on disability so I use this site to contribute to society.

Last Updated: October 24, 2012 added graphics for the 88 constellations under Observation/The Night Sky.

This site is a testament that even though I have a physical disability - legally blind - I can still do things that helps other people. I even have a new project: Astro-Drummer, a site dedicated to my other hobby.
I also have a new image gallery. I call it Second Site Image Gallery.
This is an educational website. It's never too late to learn astronomy, even for those who have not completed their primary (High School) education. A GED can get you in the door to college level courses.

InboxAstronomy:
NASA Telescopes Find Clear Skies and Water Vapor on Exo-Neptune The weather forecast for a planet 120 light-years from Earth is clear skies and steamy water vapor. Finding clear skies on a gaseous world the size of Neptune is a good sign that even smaller, Earth-size planets might have similarly good visibility. This would allow earthbound astronomers to measure the underlying atmospheric composition of an exoplanet. Astronomers using the Hubble, Spitzer, and Kepler space telescopes were able to determine that the planet, cataloged HAT-P-11b, has water vapor in its atmosphere. The world is definitely steamy with temperatures over 1,000 degrees Fahrenheit. The planet is so hot because it orbits so close to its star, completing one orbit every five days.

APOD:
Two Black Holes Dancing in 3C 75 Image Credit: X-Ray: NASA/CXC/D. Hudson, T.Reiprich et al. (AIfA); Radio: NRAO/VLA/ NRL
Explanation: What's happening at the center of active galaxy 3C 75? The two bright sources at the center of this composite x-ray (blue)/ radio (pink) image are co-orbiting supermassive black holes powering the giant radio source 3C 75. Surrounded by multimillion degree x-ray emitting gas, and blasting out jets of relativistic particles the supermassive black holes are separated by 25,000 light-years. At the cores of two merging galaxies in the Abell 400 galaxy cluster they are some 300 million light-years away. Astronomers conclude that these two supermassive black holes are bound together by gravity in a binary system in part because the jets' consistent swept back appearance is most likely due to their common motion as they speed through the hot cluster gas at 1200 kilometers per second. Such spectacular cosmic mergers are thought to be common in crowded galaxy cluster environments in the distant universe. In their final stages the mergers are expected to be intense sources of gravitational waves.

APOD: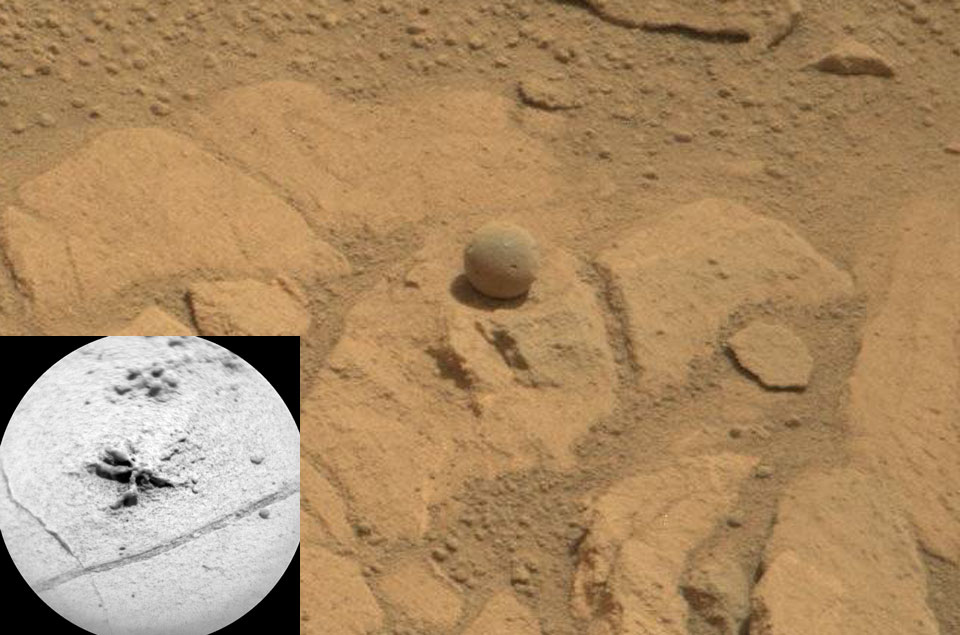 Unusual Rocks near Pahrump Hills on Mars Image Credit: NASA, JPL-Caltech, MSSS
Explanation: How did these Martian rocks form? As the robotic Curiosity rover has approached Pahrump Hills on Mars, it has seen an interesting and textured landscape dotted by some unusual rocks. The featured image shows a curiously round rock spanning about two centimeters across. Seemingly a larger version of numerous spherules dubbed blueberries found by the Opportunity rover on Mars in 2004, what caused this roundness remains unknown. Possibilities include frequent tumbling in flowing water, sprayed molten rock in a volcanic eruption, or a concretion mechanism. The inset image, taken a few days later, shows another small but unusually shaped rock structure. As Curiosity rolls around and up Mount Sharp, different layers of the landscape will be imaged and studied to better understand the ancient history of the region and to investigate whether Mars could once have harbored life.
---
Astronomy Online is a personal resource of mine that is made public. Please enjoy the site.

---

ARCHIVED BLOG ENTRIES

---
Advertising within text will be in italics with a link to the ad source.
Observation - This section includes information on coordinate systems, constellations, objects visible in the night sky, and some images of the night sky of the northern and southern hemispheres.
Science - This section includes information on some of the basic science used in astronomy. There is information on the variety of tools used (like telescopes) as well as methods of using them. There is a mathematics primer, introduction to some physical processes, formulas used in astronomy, and information on computer use in Astronomy.

Solar System - As indicated, this section covers our Solar System and everything in it. It covers the Sun, planets, their moons, asteroids, comets and exotic objects like TNO's and Kuiper Belt Objects.
Stars - This section covers stars in our own galaxy. It covers the variety of stellar evolution paths. It also covers supernova, black holes, and some of the radiative processes in the interstellar medium.

Our Galaxy - This section covers our galaxy as well as some of the nearby galaxies in our own Local Group. It also covers galaxy evolution.
Cosmology - This section covers other galaxies and galaxies clusters. It also covers the big bang, relativity and dark matter.
Astrobiology - This section covers the relatively new field in astronomy - the possibility of life in our Solar System and the Universe. There is also information on some of the projects dealing with this - like SETI.

Exoplanets - This section covers the study of planets known to exist around other stars. It covers both amateur and professional involvement and shows you how you can get involved with the search as well.

Astrophotography - This section covers the fastest growing hobby of astrophotography. This section offers information and tips on photography and also features and Image Gallery.
Advertisement
Braindumps Testking 000-105 640-816 SY0-201 70-662 650-987 70-642 1Y0-A18 E22-275