Welcome to Astronomy Online
A legally blind photographer/astronomer on disability so I use this site to contribute to society.

Last Updated: added graphics for the 88 constellations under Observation/The Night Sky.

This site is a testament that even though I have a physical disability - legally blind - I can still do things that helps other people.
---
Award-winning middle school online courses at Excel High School
Northgate Academy offers online homeschooling with a Christian worldview
Get Your Pharmacy technician certification online at Washington Online Learning Institute
---
I also have a new image gallery. I call it Second Site Image Gallery.
---
Check Grab My Essay which is one of the best essay writing services
Find on Top Writers Review your essay writing company
PickWriters provides the best translation services reviews
Find on LetsGradeIt best reviews on essay writing services
---
This is an educational website. It's never too late to learn astronomy, even for those who have not completed their primary (High School) education. A GED can get you in the door to college level courses.
---
Visit this page: https://www.advancedwriters.com/custom-research-paper.html and get Astronomy research project writing assistance for University classes.
Affordable academic writing company CheapWritingHelp.com provides students with unique astronomy research papers and science essays.
A-Writer essay writing service with the best PhD writers on Astronomy.
Check https://easyessay.us/custom-essay/ and order a quality essay on your discipline.
---
APOD: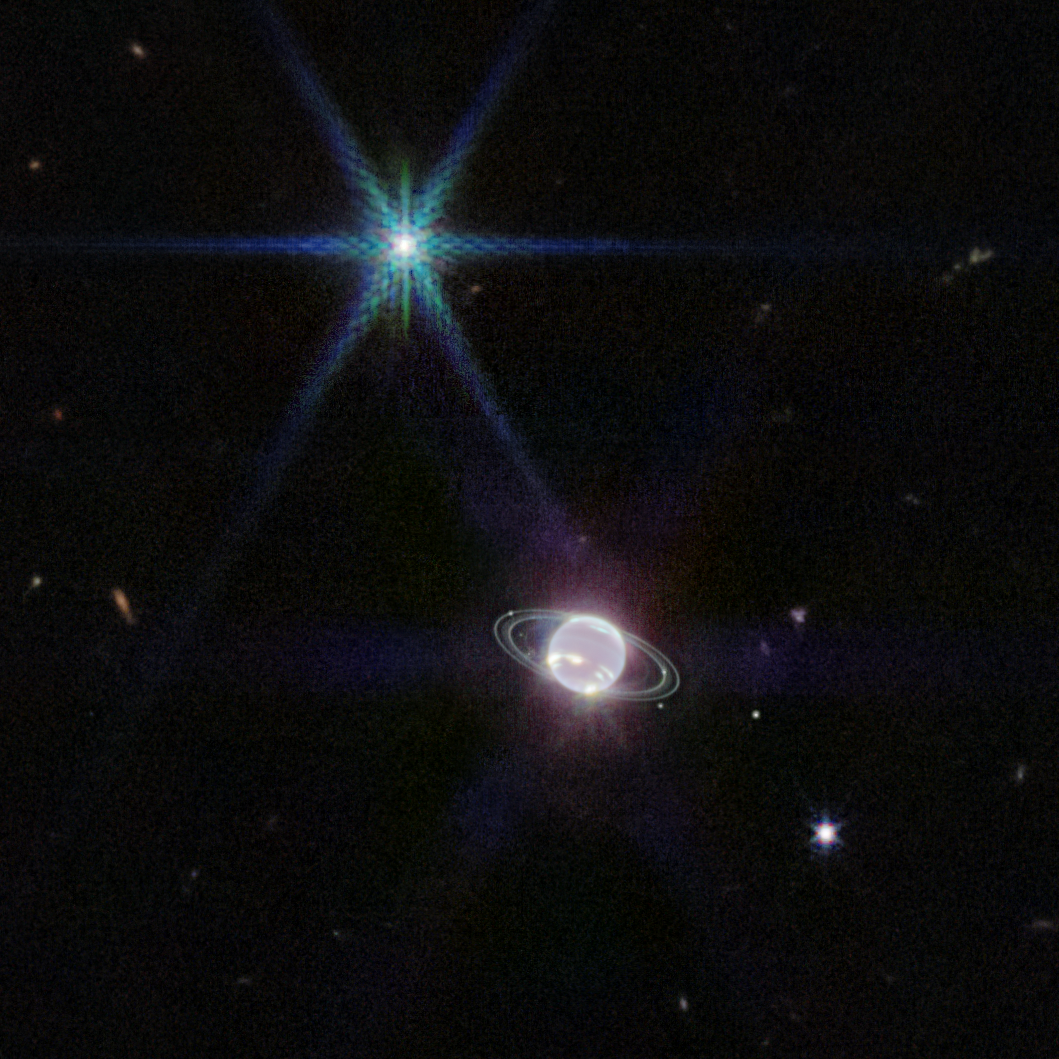 Ringed Ice Giant Neptune Image Credit: NASA, ESA, CSA, STScI, NIRCam
Explanation: Ringed, ice giant Neptune lies near the center of this sharp near-infrared image from the James Webb Space Telescope. The dim and distant world is the farthest planet from the Sun, about 30 times farther away than planet Earth. But in the stunning Webb view the planet's dark and ghostly appearance is due to atmospheric methane that absorbs infrared light. High altitude clouds that reach above most of Neptune's absorbing methane easily stand out in the image though. Coated with frozen nitrogen, Neptune's largest moon Triton is brighter than Neptune in reflected sunlight and is seen at upper left sporting the Webb's characteristic diffraction spikes. Including Triton, seven of Neptune's 14 known moons can be identified in the field of view. Neptune's faint rings are striking in this new space-based planetary portrait. Details of the complex ring system are seen here for the first time since Neptune was visited by the Voyager 2 spacecraft in August 1989.
---
5 Reasons to Get a Degree in Astronomy
5 Best Online Courses in Astronomy
---

APOD:
Star Forming Region NGC 3582 without Stars Image Credit & Copyright: Chris Willocks
Explanation: What's happening in the Statue of Liberty nebula? Bright stars and interesting molecules are forming and being liberated. The complex nebula resides in the star forming region called RCW 57, and besides the iconic monument, to some looks like a flying superhero or a weeping angel. By digitally removing the stars, this re-assigned color image showcases dense knots of dark interstellar dust, fields of glowing hydrogen gas ionized by these stars, and great loops of gas expelled by dying stars. A detailed study of NGC 3576, also known as NGC 3582 and NGC 3584, uncovered at least 33 massive stars in the end stages of formation, and the clear presence of the complex carbon molecules known as polycyclic aromatic hydrocarbons (PAHs). PAHs are thought to be created in the cooling gas of star forming regions, and their development in the Sun's formation nebula five billion years ago may have been an important step in the development of life on Earth.
---
7 Tips to Create a High-Quality Essay for College
---
Get help with your dissertation at Dissertation Expert - PhD thesis writing service.
If you ever need help with homework - just visit Homework Help Desk and forget about your struggles.
Assignmentgeek.com – get professional assistance with astronomy assignments.
---

APOD:
Star Trails and Lightning over the Pyrenees Data - Hubble Tarantula Treasury, European Southern Observatory, James Webb Space Telescope, Amateur Sources Image Credit & Copyright: Marc Sellés Llimós
Explanation: The beauty in this image comes in layers. On the bottom layer is the picturesque village of Manlleu in Barcelona, Spain. The six-minute exposure makes car lights into streaks. The next layer is a mountain -- Serra de Bellmunt -- of Europe's famous Pyrenees. Next up is a tremendous lightning storm emanating from a classically-shaped anvil cloud. The long exposure allowed for the capture of many intricate lightning bolts. Finally, at the top and furthest in the distance are stars. Here, the multi-minute exposure made stars into trails. The trailing effect is caused by the rotation of the Earth, and the curvature of the trails indicates their distance from the north spin pole of the Earth above. Taken after sunset in early June, the lightning storm soon moved off. The stars, though, will continue to circle the pole for as long as the Earth spins -- surely billions of years into the future.
---
---
Astronomy Online is a personal resource of mine that is made public. Please enjoy the site.

---

ARCHIVED BLOG ENTRIES

---
---
Advertising within text will be in italics with a link to the ad source.
Observation - This section includes information on coordinate systems, constellations, objects visible in the night sky, and some images of the night sky of the northern and southern hemispheres.
Science - This section includes information on some of the basic science used in astronomy. There is information on the variety of tools used (like telescopes) as well as methods of using them. There is a mathematics primer, introduction to some physical processes, formulas used in astronomy, and information on computer use in Astronomy.

Solar System - As indicated, this section covers our Solar System (See Solar System App, Solar System Scope App) and everything in it. It covers the Sun, planets, their moons, asteroids, comets and exotic objects like TNO's and Kuiper Belt Objects.
Stars - This section covers stars in our own galaxy. It covers the variety of stellar evolution paths. It also covers supernova, black holes, and some of the radiative processes in the interstellar medium.

Our Galaxy - This section covers our galaxy as well as some of the nearby galaxies in our own Local Group. It also covers galaxy evolution.
Cosmology - This section covers other galaxies and galaxies clusters. It also covers the big bang, relativity and dark matter.
Astrobiology - This section covers the relatively new field in astronomy - the possibility of life in our Solar System and the Universe. There is also information on some of the projects dealing with this - like SETI.

Exoplanets - This section covers the study of planets known to exist around other stars. It covers both amateur and professional involvement and shows you how you can get involved with the search as well.

Astrophotography - This section covers the fastest growing hobby of astrophotography. This section offers information and tips on photography and also features and Image Gallery.
Advertisement
American Cancer Society | Mesothelioma Veterans Center | Cerebralpalsy Guidance | Recall Report | ConsumerSafetyGuide | Trident University | 5 STEM Space | KnowYourDNA