---
Astronomy Online Store
.
Reload the page (F5 key) to see a random selection of items below.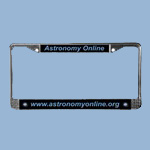 ---
---
Stumble It!

Welcome to Astronomy Online
A legally blind photographer/astronomer on disability so I use this site to contribute to society.

Last Updated: October 24, 2012 added graphics for the 88 constellations under Observation/The Night Sky.

This site is a testament that even though I have a physical disability - legally blind - I can still do things that helps other people. I even have a new project: Astro-Drummer, a site dedicated to my other hobby.
I also have a new image gallery. I call it Second Site Image Gallery.
This is an educational website. It's never too late to learn astronomy, even for those who have not completed their primary (High School) education. A GED can get you in the door to college level courses.

InboxAstronomy:
Hubble Sees 'Ghost Light' From Dead Galaxies The universe is an infinite sea of galaxies, which are majestic star-cities. When galaxies group together in massive clusters, some of them can be ripped apart by the gravitational tug of other galaxies. It's a giant cosmic mosh pit. Astronomers using the Hubble Space Telescope to probe the massive galaxy cluster Abell 2744 — nicknamed Pandora's Cluster — have found forensic evidence of galaxies torn apart long ago. It's in the form of a phantom-like faint glow filling the space between the galaxies. This glow comes from stars scattered into intergalactic space as a result of a galaxy's disintegration.

APOD:
Iridescent Cloud Edge Over Colorado Image Credit & Copyright: Phil Plait (Bad Astronomy Blog, Slate)
Explanation: Sometimes your eclipse viewing goes bad in an interesting way. While watching and photographing last Thursday's partial solar eclipse, a popular astronomy blogger suffered through long periods of clouds blocking the Sun. Unexpectedly, however, a nearby cloud began to show a rare effect: iridescence. Frequently part of a more familiar solar corona effect, iridescence is the diffraction of sunlight around a thin screen of nearly uniformly-sized water droplets. Different colors of the sunlight become deflected by slightly different angles and so come to the observer from slightly different directions. This display, featured here, was quite bright and exhibited an unusually broad range of colors. On the right, the contrails of an airplane are also visible.

APOD: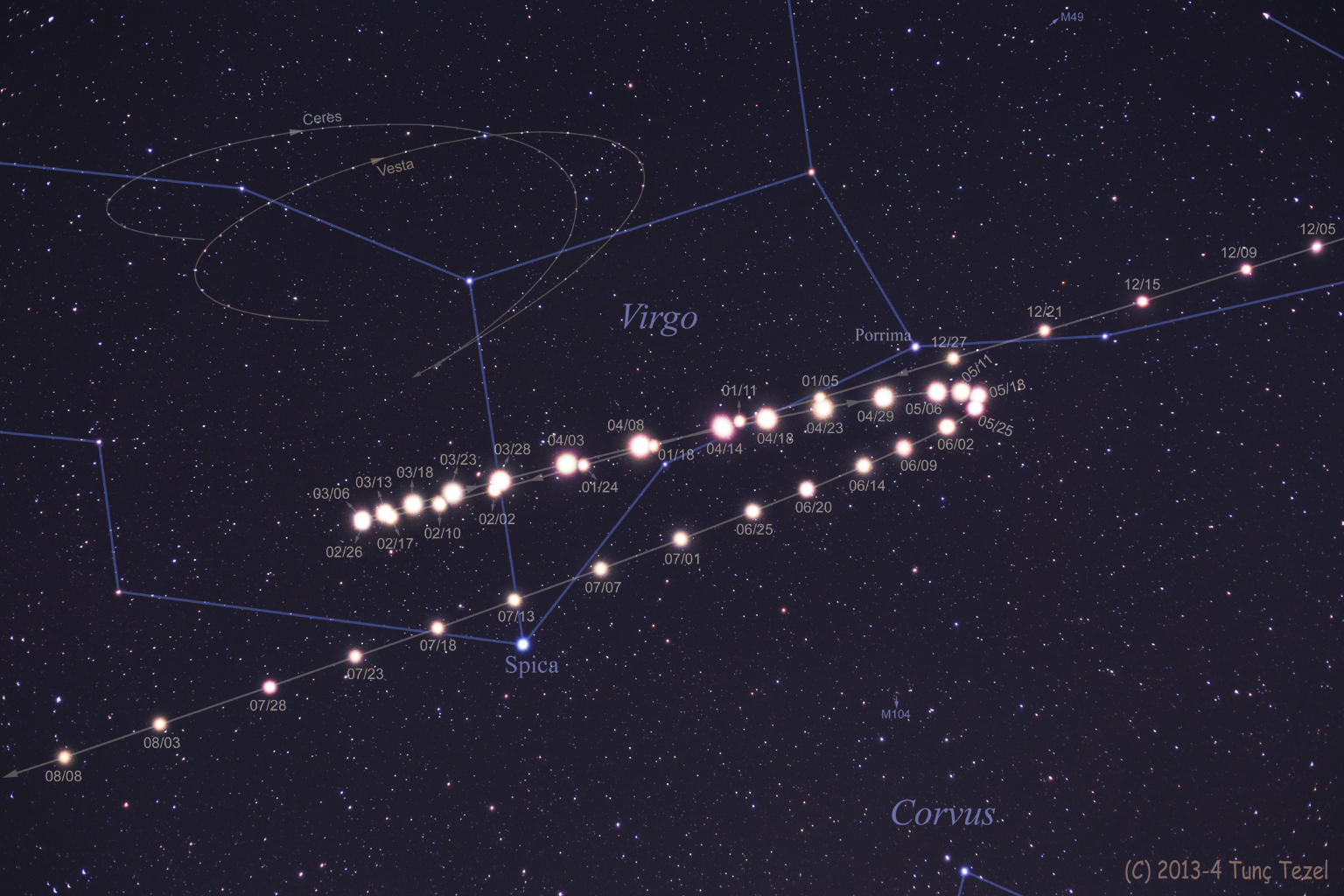 Retrograde Mars Credit & Copyright: Tunç Tezel (TWAN)
Explanation: Why would Mars appear to move backwards? Most of the time, the apparent motion of Mars in Earth's sky is in one direction, slow but steady in front of the far distant stars. About every two years, however, the Earth passes Mars as they orbit around the Sun. During the most recent such pass starting late last year, Mars as usual, loomed large and bright. Also during this time, Mars appeared to move backwards in the sky, a phenomenon called retrograde motion. Featured here is a series of images digitally stacked so that all of the stars coincide. Here, Mars appears to trace out a narrow loop in the sky. At the center of the loop, Earth passed Mars and the retrograde motion was the highest. Retrograde motion can also be seen for other Solar System planets.
---
Astronomy Online is a personal resource of mine that is made public. Please enjoy the site.

---

ARCHIVED BLOG ENTRIES

---
Advertising within text will be in italics with a link to the ad source.
Observation - This section includes information on coordinate systems, constellations, objects visible in the night sky, and some images of the night sky of the northern and southern hemispheres.
Science - This section includes information on some of the basic science used in astronomy. There is information on the variety of tools used (like telescopes) as well as methods of using them. There is a mathematics primer, introduction to some physical processes, formulas used in astronomy, and information on computer use in Astronomy.

Solar System - As indicated, this section covers our Solar System and everything in it. It covers the Sun, planets, their moons, asteroids, comets and exotic objects like TNO's and Kuiper Belt Objects.
Stars - This section covers stars in our own galaxy. It covers the variety of stellar evolution paths. It also covers supernova, black holes, and some of the radiative processes in the interstellar medium.

Our Galaxy - This section covers our galaxy as well as some of the nearby galaxies in our own Local Group. It also covers galaxy evolution.
Cosmology - This section covers other galaxies and galaxies clusters. It also covers the big bang, relativity and dark matter.
Astrobiology - This section covers the relatively new field in astronomy - the possibility of life in our Solar System and the Universe. There is also information on some of the projects dealing with this - like SETI.

Exoplanets - This section covers the study of planets known to exist around other stars. It covers both amateur and professional involvement and shows you how you can get involved with the search as well.

Astrophotography - This section covers the fastest growing hobby of astrophotography. This section offers information and tips on photography and also features and Image Gallery.
Advertisement
Braindumps Testking 000-105 640-816 SY0-201 70-662 650-987 70-642 1Y0-A18 E22-275