It's the Astronomy Online non-Blog, or un-Blog.
Everyone has a blog now and since I am no follower of trends, I decided to merge the blog with the website. And I don't want to neglect the website in favor of posting on the blog.
These are the pages that were on the blog of old:
- Home
- Me
- Links
Links:
Google Maps - Mars
Google Maps - Moon
HiRISE
HiRISE - MRO Imaging
Mac Singularity
Meade4M
Slackerpedia Galactica
Software for the Mac
Starry Night Online
Venus Maps

More Favorites:
Thank you for visiting!

Venus Express has Arrived:
ESA's Venus Express entered Venusian orbit on April 11, 2006. All has gone according to plan. Although the spacecraft has only just arrived, the ESA has released the first image - in unprecedented detail.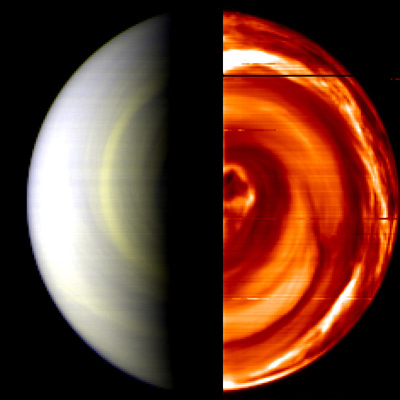 This image is a composite image of the South Pole - the left side of the image is in true color while the right is a false color image. More information is available from the ESA website.

Other current mission links are available from the Astronomy Online Current Trends page.