If this page looks familiar, that's because it is. The energy of a photon uses what is called Planck's Law.

Ever wonder how much energy a photon of light carries? Probably not, but we have some equations to show you anyway!

By using Planck's Constant (which is a value that describes a quanta - or the smallest measurable unit) in relation to frequency and wavelength, we have the two following equations: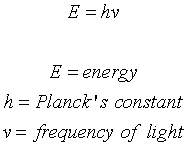 and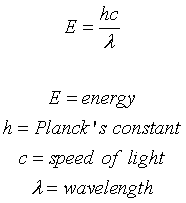 Note that these equations are used to solve the value of energy in only 1 photon.