| | |
| --- | --- |
| | Astronomy has many different levels. From enjoyment in viewing the veil of stars from a back yard patio to programming galaxy collision simulations on a cluster of computers, there is sure to be a subject in between these extremes that will stimulate your mind. |
This section will deal with the very basics of Astronomy. Now just because they are basic does not mean they are any less boring! Living near a large city with night skies flooded with mercury-vapor street lamps, I envy those who can sit on their patio and enjoy the collection of stars overhead.
To observe the night sky, it is helpful to follow a map. One of the ideas behind the constellation drawings is to serve this purpose. We also know there are several constants to consider:
Time is also important to understand when dealing with Astronomy, and the use of Sidereal time can be found in the Science Section.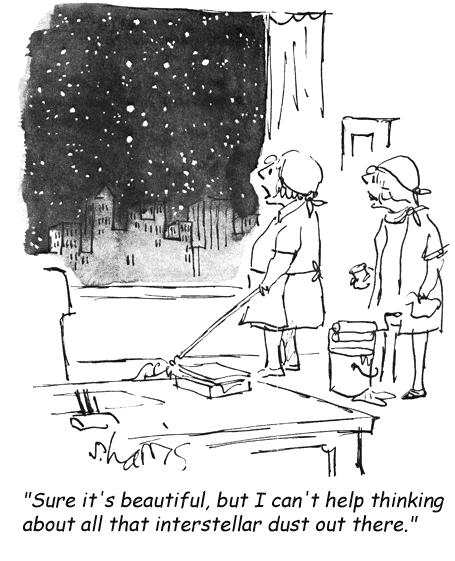 (Science Cartoons Plus)
Knowing where to look and understanding some basic fundamentals will enhance the hobby of Astronomy.